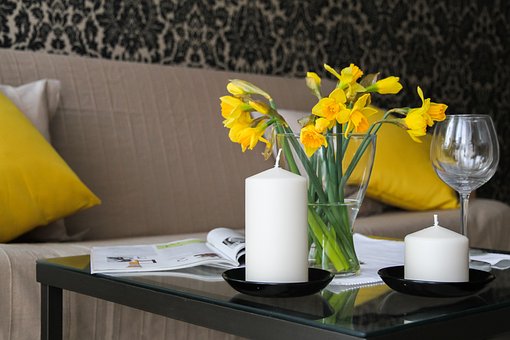 We all know the importance of staging a home that's about to hit the market, but when it comes to standing out, some homes are simply staged better than others.
So how do you take your staging game to the next level?
The Right Décor
Choosing décor in a staged home can be a difficult task. Too much of it and you'll make the space look cluttered and potentially even ugly. Too little and your space may seem dull and uninviting. A minimal, artistic look will have a positive effect on a potential buyer.
Distinctive art furniture, clever furniture placement—to make the room seem as large as possible—and proper curtains are a good starting place for the living room.
Try hanging luxurious towels in the bathroom, clear the counters and consider setting fresh flowers near the sink. Setting the table in the kitchen may help buyers visualize themselves living in the space.
Perhaps most importantly, don't forget the outside! First impressions are important, so you want to make sure your yard is equally as inviting as the inside of your home.
Staged homes allow a person to see how the home's spaces can be used.
Neutrals with a Pop of Colour
Some people may love walls that are painted purple; some people may not.
Your safest bet when it comes to the hues in your home is neutral-coloured walls and furniture, with injections of colour here and there. These colourful accessories could come in the form of accent pillows, flowers or area rugs.
Get Rid of the Clutter
Last—but certainly not least when it comes to staging—it is essential that your home is spotless if you want to earn top dollar.
Floors should shine, countertops should sparkle and all clutter should be removed. Keep in mind, although your personal items are of great importance to you, they likely don't mean anything to those who may be interested in purchasing your house. It's best to keep these keepsakes out of sight. By getting rid of excess items, you'll also make your house seem bigger, which is appealing to anyone.